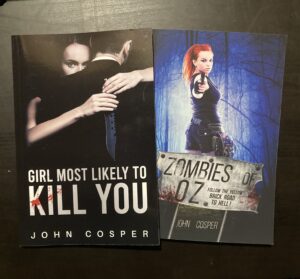 A year ago, these two stories were sitting in mothballs. Virtual mothballs, but mothballs nonetheless.
I began writing Girl Most Likely to Kill You around 2004. It was originally titled High School Sweetheart, and it went through multiple drafts. It once made the finals in a screenplay competition. I got a very nice consolation call from the contest runner when it fell short of winning.
Zombies of Oz isn't quite as old, but it passed through many creative hands on the local indie film scene. It started with me simply sharing an idea as a Facebook post, and it went further when one of those local filmmakers suggested I write it.
A year ago, I decided to turn both of these scripts into novels. They're short novels, but they received raves from the beta readers who gave them a look. Now both are in print and in my hands, which is just amazing to me.
Right now, I'm offering a special on the website. Order direct, and you can save 20% on your entire order. If you're a buy local/ buy direct person, you know that's the best way to support me and other creative artists you like. We get more money, and a major website owner takes less. Plus, I'll sign them for you, something that big web store can't offer.
One final note to the story: there's a third screenplay that will soon be in print as a novel. Not just a novel, but the third part of the Dead Park series. Look for it in November!
Click here to shop now, and don't forget the coupon code fall.