My friend Jeff Waldridge is ex-wrestler, a documentary filmmaker, a Bigfoot hunter, and an all around expert on the paranormal. He comes by his interest in the paranormal honestly. He grew up Lawrenceburg, a quiet Kentucky town with an extraordinary number of haunted spaces.
If you're a fan of Talk Is Jericho or Paranormal Lockdown, you've heard of Lawrenceburg. You've also heard of the Anderson Hotel, one of the most active haunted spaces in America. The hotel is certainly the main attraction, but it's hardly the only place with secrets. The mansions of the bourbon kings up the street, the courthouse down the block, even the distilleries outside of town have ghostly residents.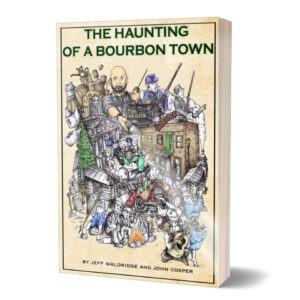 Jeff and I spent close to a year compiling his research into The Haunting of a Bourbon Town. Part history, part chronicle of the unknown, the book will introduce you to Lawrenceburg's past as a bourbon town. You'll read stories of crimes and misdemeanors, of vagrants and hoboes, of Confederate guerrillas and a phony voodoo women.
And then, there are the ghosts.
The grunge boy. The burning man. The drunk. The man and woman in the newspaper building. The tall and imposing T.B. Ripy. And don't forget Ol' Albert at the courthouse.
Jeff knows this supernatural community better than anyone. The Haunting of a Bourbon Town will make you put Lawrenceburg on your travel itinerary. Just think twice about visiting the Anderson Hotel after dark. Not every spirit in this decrepit old hotel is friendly.
We are now taking pre-orders for SIGNED copies of the book. Books should be in stock by September and ship by September 15.
Click here to preorder your SIGNED copy.
Can't wait that long? No problem. Amazon can get you an unsigned copy in a few days.
Click here to buy now from Amazon.
And don't forget to book your own ghost walk in Lawrenceburg! For information, visit Jeff's website: