My father didn't care for dolls. Blame it on Rod Serling, whose Twilight Zone episode "Talking Tina" left a lasting impression on him. Dad thought they were creepy, and if there was one thing worse than a doll, it was a doll with teeth.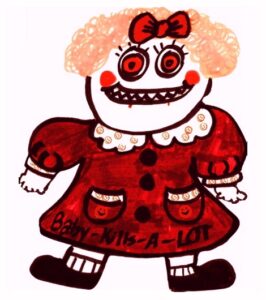 After hearing a rant about dolls with teeth, my sister Dawn drew one. She called her Baby Kills-A-Lot. She had sinister eyes, raggedy hair, and teeth. Nasty teeth. Scary teeth. She was everything my father hated about a doll.
Still, my father kept the art work, and in the coming years, he used it to haunt my sister. She received Baby Kills-A-Lot items every Christmas. Mugs. Christmas ornaments. My dad even made wrapping paper with the frightening doll on it. It was funny. It was one of a few gags the two of them had, the other being a dickie, inspired by Christmas Vacation and Designing Women.
Then, my sister had children.
It was her second child, Alex, who suffered the most. He was terrified of the doll, and rather than discourage him, my dad doubled down on springing Baby Kills-A-Lot on his daughter and her dear, sweet babies.
Readers of my books and this blog know my dad was posthumously the impetus behind the creation of the Dead Park series and Dead Park Books in general. So it's only fitting that, with my sister's permission, Baby Kills-A-Lot joins the franchise. You'll find her in book four, Dead Park Estates, in a creepy yet funny take I believe my dad would have enjoyed.
You can purchase signed copies of all the Dead Park books right here, or click here to buy the whole series on Amazon Kindle for less than $12.